Cadre is a real estate investment platform that was founded in 2014 by CEO Ryan Williams. It makes use of artificial intelligence to identify markets that offer the potential for outsized growth for accredited investors. This technology usually analyzes more than 40,000 variables and 3 million data points to find opportunities.
Cadre's headquarters is in New York City and has attracted at least $155 million in investments from large investment firms. The latest valuation pegs the startup's worth at $800 million. What the company does is invite like-minded investors to invest alongside Cadre in quality deals, which are vetted with tech-driven and top industry experts. Cadre's main aim is to prioritize returns for investors while advancing financial inclusion.
Investing in real estate has always created an opportunity for investors to generate passive income. An investment in real estate would continue to perform well even during a market downturn.
When you invest with Cadre, you can be sure you are backed by a team of qualified experts.
Cadre usually spends significant resources on finding the very best deals. As a matter of fact, Cadre invests alongside all other investors in each deal they bring to the platform.
Cadre is not a crowdfunding platform. Cadre normally commits to the funding for each deal that is offered on their platform versus many crowdfunding sites which just list deals on a best efforts basis. They maintain a commitment to each deal throughout its lifecycle by maintaining co-investments in every deal they offer or manage.
Cadre's investment team has a lot of experience in investing tens of billions of dollars of capital across real estate cycles, asset classes, and risk profiles. Their Investment Committee members average over 25 years of experience, and previously led or worked at firms such as Vornado, Goldman Sachs, and Blackstone among others.
Their investor base is mainly composed of high net worth individuals (HNW) and Institutions. This way when you invest with Cadre, you have the ability to invest alongside Institutions.
How Does Cadre Work?
Cadre mainly offers investors two ways to invest, which include Direct Access Fund and Deal by Deal
Each method features the same $50,000 minimum investment and the same fee structure. This difference comes from the deals you may invest in.
Deal-by-Deal is a way for investors to review and select the deals they think are best on their own while the Direct Access Fund is just that, a fund. On their site Cadre states that the Direct Access Fund seeks to invest 50% of the fund in multi-family assets and the other 50% in the office, hotel, and industrial opportunities. Investors who are interested in the fund can invest their money and take a hands-off approach. However, with the Deal-by-Deal option, investors can be much more involved in the investing decisions.
To get started with Cadre, you will need to create an account. After your account is created, you will need to choose the various deals available and make a minimum $50,000 investment.
After you have made your investment, you can track the deal's performance and receive quarterly distributions.
The one features that makes Cadre so unique is that they offer investors a way to sell an investment in 'Secondary Market.'
How Cadre's fees work
Cadre charges fees including annual fees and transaction fees. Investors are usually charged annual fees of 1.5% for asset management and administration fees of up to 0.5%. For balances under $1 million, the administration fee is 0.5% per year. Once the balances exceed $1 million, fees are normally reduced to 0.25% per year.
Investors are also charged a 1.0% transaction fee when making an investment and a commitment fee of up to 3.5%. This fee is reduced for investors making larger investments.
Pros and cons of Cadre
Pros
Uses artificial intelligence to identify potentially high-value opportunities
Backed by well-known industry names
Offers periodic selling windows to exit your investment
Opportunity zone investments offer tax incentives
Cons
Lack of liquidity
Must be an accredited investor
Minimum investment amount of $50,000
Does not offer a mobile app to track your portfolio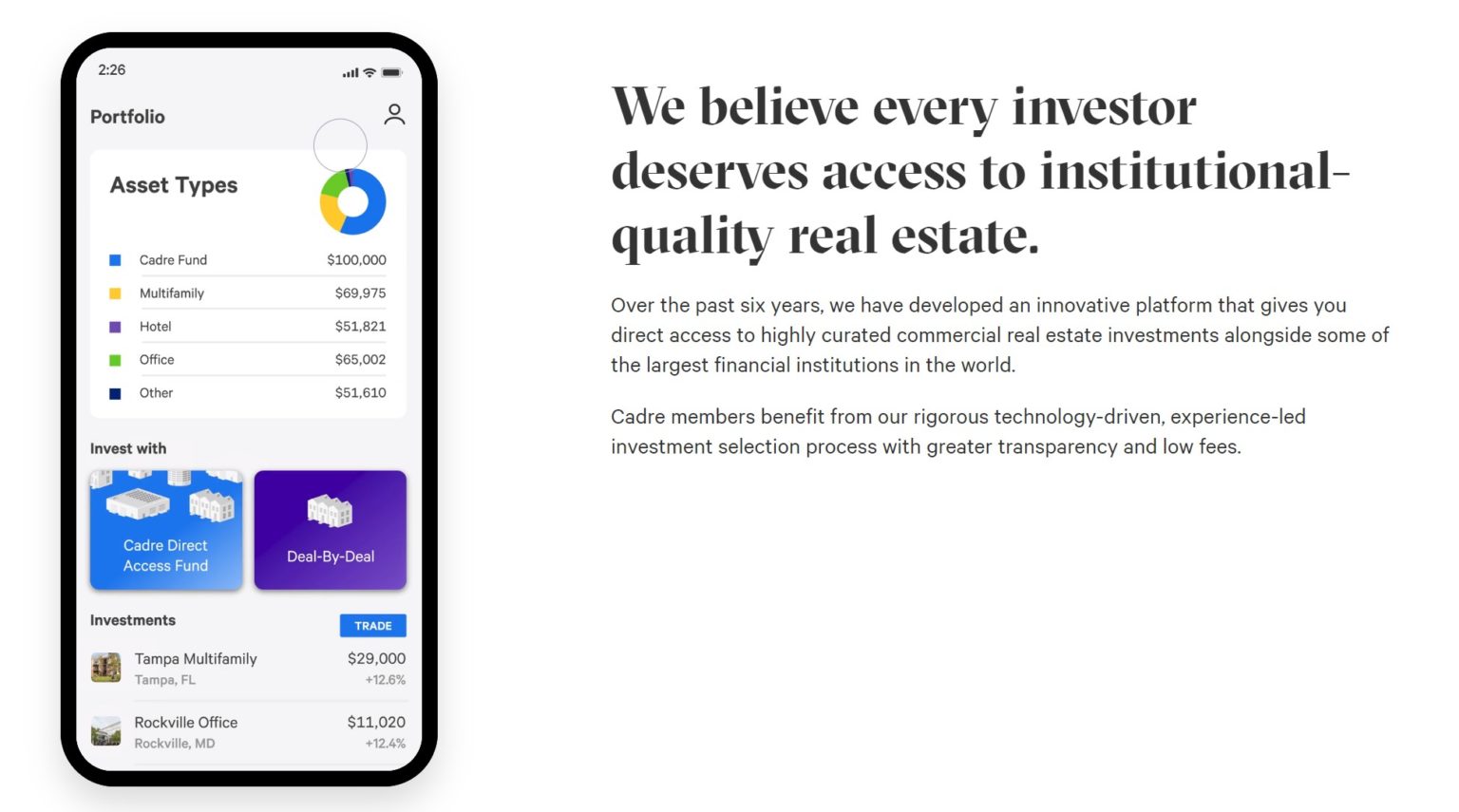 How much can you earn with Cadre?
Investing in real estate is risky and does not provide returns. How much you earn depends on the specific asset classes you invest in, how long you hold it, your risk tolerance, and other specific factors.
Most of those properties are still held in their real estate portfolios.
The website highlights four properties that have been sold, and each has outperformed its underwritten net IRR (internal rate of return).
| | | | | |
| --- | --- | --- | --- | --- |
| Investment | Type | Location | Underwritten IRR | Actual IRR |
| Avida | 421-unit Multifamily | Salt Lake City, UT | 11.0% | 16.8% |
| Skyridge Apartments | 364-unit Multifamily | Chicago, IL | 12.0% | 15.0% |
| Sugarloaf Trails | 268-unit Multifamily | Atlanta, GA | 13.3% | 27.4% |
| Astoria Portfolio | Four-building residential | Queens, NY | 15.1% | 16.2% |
How to open a Cadre account
When you qualify as an accredited investor and would like to open an account with Cadre, here's what you will need:
Personal information to complete the application, including your full name, phone number, address, email, and more
Verification documents for accredited investor status (e.g., W-2s, 1040 Federal tax returns, accredited investor verification letter)
$50,000 minimum investment amount
To open your Cadre account, visit the website and click on the "Get Started" button on top of any page on the Cadre.com website. You'll submit your personal information, provide accredited investor documents, and answer questions about your investment objections, experience, and risk appetite.
Once the account opening process is complete, you can explore investment opportunities. Cadre will also send an email offering an introductory call with its Investor Relations team if you will be interested in one.
Before you invest, account verification is crucial. Onces your account has been verified, you can choose an investment, complete the documents, and fund your investment account. The whole process can be completed online without speaking with anyone.
If you are interested in investing with Cadre, you can create an account today and receive access to review their deals and offerings.