Keap is a client management software that helps you track your prospects and customers. Keap includes features like a client database, email marketing, SMS marketing, client scheduling, and automation. Keap houses all your client activity and communications in one place. You can set up the software to handle customer follow-up, update your client records, and collect money on invoices, while you focus on providing great service. Keap is our best pick for the easiest to use CRM because of its reasonable pricing, simple functionality, and stellar sales automation features.
There are two versions of Keap: Keap Grow and Keap Pro. They're similar but have different feature sets. Keap Grow is built for smaller businesses or single entrepreneurs just getting started and includes basic features like client management, SMS and email follow up. Keap Pro is built for growing businesses and has additional features, including a sales pipeline and an automation tool.
How do I sign up for Keap?
It used to be that you had to speak with someone to sign up for Keap. Today, you can test things out by signing up for a free trial and demo on their website.
If you're looking to save money and work with an industry expert, you'll find more value by going directly to a Keap reseller (referred to as a Keap Certified Partner), who can recommend the best ways your industry is using Keap and can likely get you a better deal than what you'll find on the website.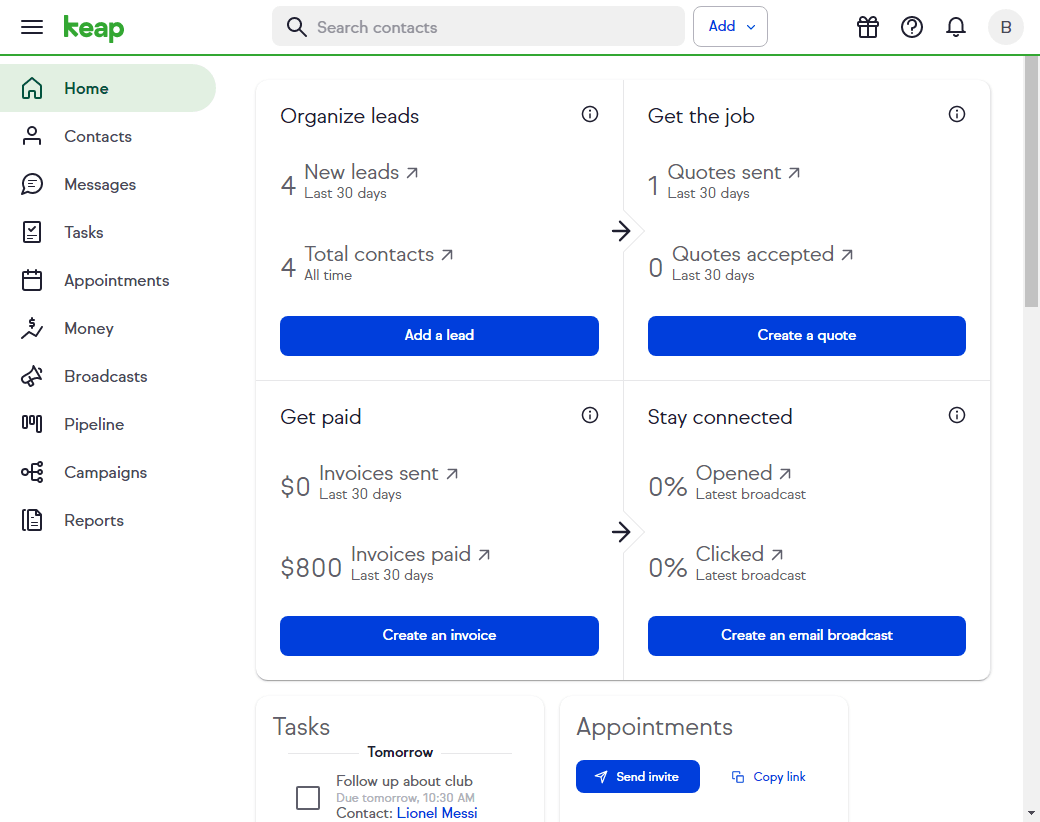 Pricing
Keap offers three monthly subscriptions that vary based on the price and included features and tools. Each plan comes with one user per license and 500 contacts; each additional user is $30 per month. Here is a breakdown of each plan. 
Keap Grow
Price: $79 per month per user account
Features: Client management; email marketing; business phone line and text messaging appointments; quotes, invoices, and payments
Keap Pro
Price: $149 per month per user account
Features: In addition to all of the tools in Keap Grow, Pro has marketing and sales automation features, recurring payments, a landing page builder, smart forms, and reports.
Infusionsoft
Price: $199 per month per user account
Features: Includes everything in both Keap Pro, plus lead scoring, company records, advanced reporting and e-commerce.
Features
Keap's straightforward, uncluttered interface houses a plethora of helpful tools and features. Here are a few tools that stood out to us.
Sales Automation
Through Keap's sales automation features, users can really take the reins when it comes to price quotes. They can create and share custom quotes, and clients can accept and convert those quotes to orders so they can be paid online.
Messaging
Keap sends out alerts when clients communicate with you, so you can respond quickly. It also offers an SMS feature that lets you instantly connect with contacts and get them the information they need as soon as possible.
Invoice and Payment
With its "pay now" button, clients can pay invoices instantly. You can set up daily, weekly or monthly payments for clients and send automatic reminders to help get you paid faster. Keap offers other payment types like PayPal, WePay, and Stripe.
Contact Manager 
It's important to have a read on your clients, and Keap's contact manager section helps you do just that. It includes client portal tools, you can record every interaction with contact and use data to create reports like timelines, sales activities, and track traffic on your website.
Keap Pros
Given everything it offers, Keap provides a linear system that isn't baffling. Its customization offerings are a big part of its simple and attractive design. Users can create quality marketing strategies and custom fields.
Keap also provides useful contact features like data points, form submissions, and a record of campaigns and purchases, which is a huge help to sales and marketing teams. Its automated sales correspondence messages move sales tasks along efficiently and eliminate lulls in communication and action.
Keap Cons
Keap's customer support is only available Monday through Friday between the hours of 6 a.m. to 7 p.m. However, their chatbot service is offered 24/7.
Conclusion & Final Thoughts
If you've been looking for a solid marketing and client management tool, you've likely found out by now that there's no such thing as the perfect software that meets all of your needs. This is important to remember because if you continue spending time searching for that perfect software, you'll lose time on implementing important strategies for your business. As they say, "version DONE is better than version NONE."
I get asked a lot about the perfect software and tech stack for different business types. My response is always the same: The top professional athletes will still win games and competitions whether they are wearing Nike, Adidas, or any other brand of shoe. They aren't the best because of the tools (or software) they use, but because they put in the time and energy to work on themselves.
All that means is that the software and tools you use are only as good as the person implementing them. Take time to build your own knowledge about your business and industry and the tools will fit better into place for you.
While there's still a lot to be desired, I'm still confident that Keap offers a powerful feature set for its price. Something you won't easily find in other software.